PetVenture Explorer
Item is in stock
Hurry! Low inventory
Item is out of stock
Item is unavailable
PetVenture Explorer
Product Description: Embark on a pet adventure like never before with our "PetVenture Explorer" Backpacks Pet Bags! Whether you're a seasoned traveler or just looking for a way to take your furry friend on a thrilling outdoor journey, this pet backpack is your trusty companion. Designed with love and care by YINGJEE, it's all about giving your pet the comfort and freedom they deserve while adding a dash of excitement to your life.
Join the PetVenture: With "PetVenture Explorer," every outdoor journey becomes a pet-filled adventure. Get ready to explore the world with your furry friend in style and comfort!
Features & Benefits:
Spacious Comfort: Our pet backpack offers plenty of room, ensuring that your pet enjoys a comfortable and cozy journey. It's the perfect fit for small dogs and cats under 8 kg, including Chihuahuas, Pomeranians, Corgis, Poodles, Schnauzers, Maltese, Papillons, and more.

Ventilated Joy: Four strategically placed ventilation nets provide a constant flow of fresh air. Your furry companion can also gaze at the world outside, keeping them relaxed and content during the adventure.

Versatile Adventure: This travel backpack is a perfect companion for various occasions, whether you're traveling, biking, or shopping. It's designed for easy carrying and practicality, so you can explore with ease.

Easy Access: The soft, breathable backpack features a large entrance that swivels 180 degrees, making it a breeze for your pet to hop in and out. There's even a side pocket for your pet's essentials or your iPad.

Durability & Comfort: Crafted from sturdy and wear-resistant materials, this backpack is built to last. Ergonomically designed shoulder straps ensure comfort during long journeys. It's all about thoughtful and durable design.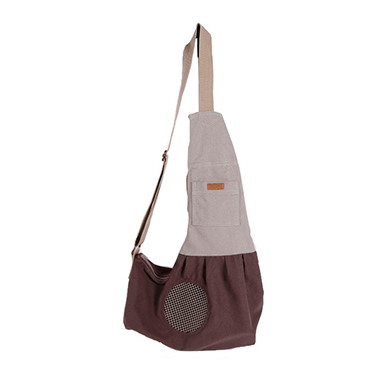 Use this accordion to add info such as Materials, Sizing, Features, Shipping and Returns policies
Use this accordion to add info such as Materials, Sizing, Features, Shipping and Returns policies